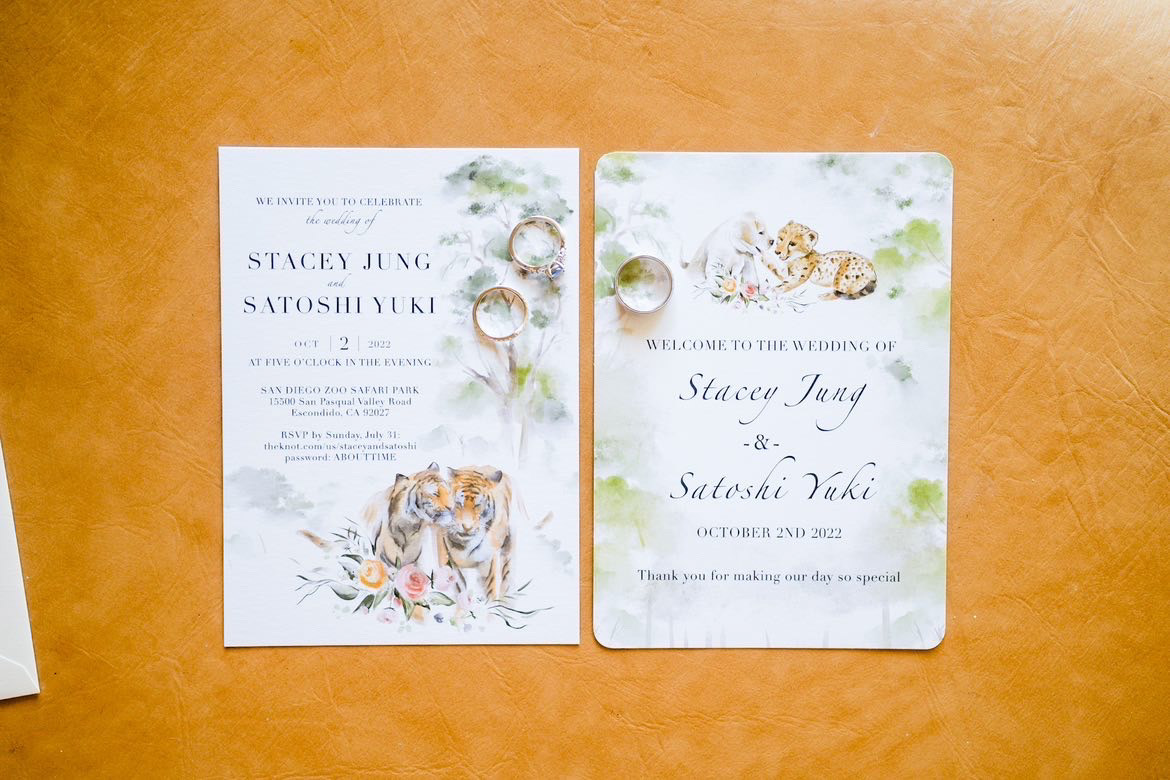 We had the absolute pleasure of working with Belinda for our wedding in October 2023. She is an incredible artist and so incredibly amazing at her art and her communication. We initially reached out for a quote for our wedding estimate of 55 guests in March 2023. She came back very quickly with a quote and description of a wedding suite that included invitations, envelopes, program fans, and thank you cards. 
We weren't quite sure what we wanted, so after some requests for re-quotes with edits to the list, we decided on just invitations and program fans. She was very understanding of our edit requests (we were trying to stay at a certain budget line) and always responded very quickly. As the months progressed, we actually decided to add more to our wedding suite needs and change the guest estimate, which she graciously agreed to, always giving us the updated pricing. In the end, we got our invitations, program fans, double-sided escort cards, and cake flavor cards done by her! She was always very understanding of all edits to our order and very upfront with pricing and answering any questions we had on how it would all work.
In terms of the actual artwork - man oh man, we were blown away!! Her art style perfectly suited our wedding, which was held at the San Diego Zoo Safari Park. We had ideas of what we wanted to convey about everything, but she was the mastermind of the rest of it. She really brought our vague ideas and words to life in the most beautiful way possible. We especially loved our invitations which showcased a gorgeous watercolor tiger, bringing a snippet of what was to come for our guests (our reception was held where the tigers were). We did not have any specific "wedding colors," rather we let the venue and florist guide the color scheme. We were able to take the color scheme our florist presented to us and give it to Belinda as well, so she was able to incorporate those colors into the wedding suite! It made everything so cohesive and stunning.
Belinda was such a gem to work with. Everything was amazing - our friends and families especially loved the invitations and fans, which had the two very special works of art (tiger on the invitation, and dog and cheetah on the fans). Working with Belinda was such an easy process - since we were doing all the wedding planning ourselves, she was a welcome relief to our planning stresses. Instead of having to worry about making cards or menus ourselves, we were so grateful to put our trust in Belinda who delivered above and beyond what we could expect.
We highly recommend hiring Belinda, especially if you're looking for a talented and kind wedding vendor. Not only are her artistic skills incredible, but so is her ability to really understand what the client is looking for. We had never done something like this before, so sometimes verbalizing what we were looking for was challenging for us. But Belinda was able to take our sparse details and create what we couldn't put into words. She was able to take the vision we had in our minds and actualize it onto paper. She is so amazingly talented and we were so lucky to get to work with her for our once in a lifetime event!
We cannot recommend Belinda enough! From the moment we started talking about our wedding stationery, we knew we wanted something elegant and creative to match the vibe of our venue. Belinda was the perfect fit! 
She listened to our ideas and took the time to understand our vision for our big day. With her expert guidance, they were able to create a design concept that truly elevated our wedding venue into a work of art. The whole design process was a joy from start to finish, and we couldn't be happier with the final result. Even after the wedding, we still find ourselves admiring the beautiful stationery she created for us.
 We're so grateful to have had the opportunity to work with such a talented and professional artist. Thank you for making our wedding day even more special! We will definitely be framing our stationery as a treasured memory in our home.
Planning our wedding at a wine vineyard was a dream come true, and we wanted stationery that would match the natural beauty and rustic charm of our venue. That's where Belinda came in - they were able to create stationery that was not only beautiful but also perfectly complemented the overall aesthetic of our wedding. 
From the very first consultation, Belinda was attentive, responsive, and committed to making our vision a reality. They provided great ideas and suggestions, and were always open to our feedback and suggestions. We were blown away by the quality of the final product - the stationery was not only gorgeous but also had a unique and personalized touch. 
We received many compliments from our guests about the beautiful stationery, and it was a great way to set the tone for our wedding day. We are so grateful to Belinda for her exceptional work and for helping make our wedding day so memorable. We would highly recommend Lucky Orchid Designs to anyone looking for one-of-a-kind stationery that truly captures the essence of their wedding.
Working with Belinda at Lucky Orchid Designs was one of the best decisions we made in planning our wedding. From the get go, Belinda was an overall pleasure to work with. I had looked at invitation suites online and nothing really captured the vibe I was going for. She took our ideas and vision and truly brought them to life. The process was collaborative, iterative, and fun! Belinda was communicative and flexible the entire way through. Her design skills are impressive and everything she came up with was just gorgeous. We got multiple unsolicited comments from guests that it was the most beautiful invitation they had ever received. She took the stress out of planning and crafting many of the day-of stationary details as well. She went above and beyond. I would HIGHLY recommend Lucky Orchid Designs for custom stationary for your big day!!