Designing with Lucky Orchid Designs
Congratulations on your upcoming wedding! If you're looking for custom wedding stationery that perfectly reflects your unique style and vision, you've come to the right place.
Welcome to my full-service custom wedding design st

udio, where I guide yo

u through every step of the process, from concept to completion. My goal is to make designing and creating your wedding stationery as stress-free and enjoyable as possible, so that you can focus on what matters most: celebrating your love story.
You might be wondering - why choose to work with a wedding stationer like myself?
Personalization:
Designs are created, tailored specifically to you and your partner's unique style and vision. We'll collaborate to create a one-of-a-kind design that perfectly reflects your personality and love story.
Expertise:
I'll guide you in design, printing, and paper selection - choosing the right paper and printing techniques to bring your design to life, and ensure that the final product is of the highest quality.
Stress-free experience:
Planning a wedding can be overwhelming, and designing your own stationery can add to that stress. By working with a custom wedding stationery designer, you can leave the design and printing details to the professionals and
focus on enjoying the process.
Time-saving:
 Designing and printing wedding stationery can be time consuming, especially if you're doing it on your own. Save time and effort researc

hing color palettes,

designs, wording, fonts, materials - I'll handle the process from start to finish.
Keepsakes:
Your wedding stationery is a keepsake that you'll cherish for years to come. By choosing custom, you can create designs that are not only beautiful, but also meaningful and reflective of your unique love story.
I believe that the little details make a big difference when it comes to creating the perfect wedding. That's why I offer a range of custom design services to help you set the tone for your special day.
 - Guest address envelope printing

​​​​​​​
Day-of Stationery & Signage
Here's a glimpse into what you can expect when you work with me.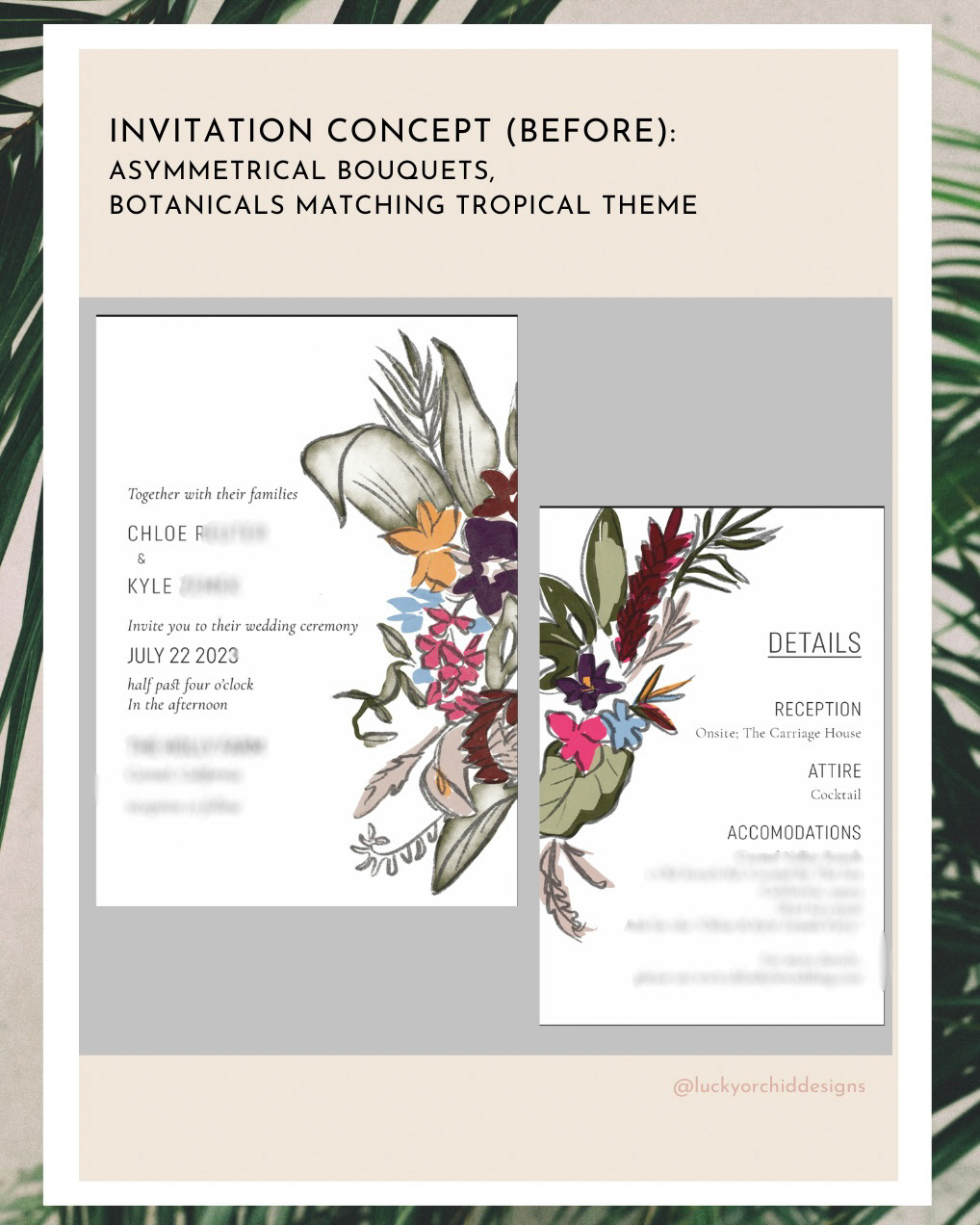 We'll start with an initial consultation to discuss your vision for your wedding. During this conversation, we'll explore your wedding colors, floral arrangements, venue, dresses, and more. This will give me a good sense of your overall style, and allow us to begin working our magic in the next step!
Next, I'll propose a design mood board that reflects your wedding style. This step is essential, as it will allow me to turn your dreams into a tangible design that reflects your unique vision for all paper & signage needs.
After the Design Review, we'll move on to the proof process. We'll design your enclosure cards to coordinate with the invitation design you choose, ensuring that every detail is perfect. If we're working together for day-of paper needs, we'll re-visit this part of the process ~2 months before your wedding.
4 - APPROVE FINAL DESIGN & SEND TO PRINT 
Once you're absolutely thrilled with your designs, we'll get ready to send it to print. Turnaround time for printing & assembly varies based on the amount of enclosure cards & stationery details.
By working with me, you'll receive personalized attention, expert guidance, and beautiful custom wedding stationery that reflects your unique style and vision. Fill out the questionnaire below for a personalized quote!